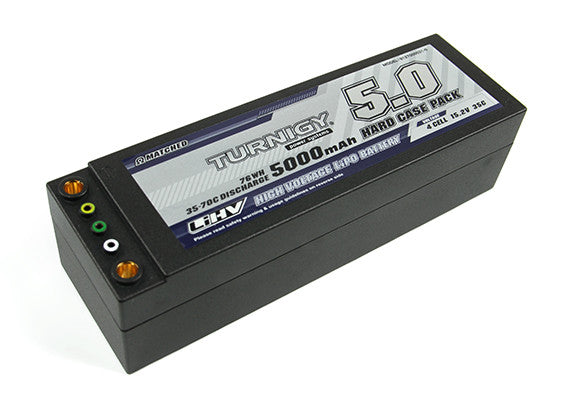 Turnigy LiHV 5000mAh 4S 15.2V 35C Hardcase Pack
---
Get the jump on the competition with Turnigy LiHV (High Voltage) Hardcase packs. 
Turnigy LiHV hardcase packs are designed purely for squeezing more power out of your existing drive train.  You'll immediately notice the difference with super punchy acceleration
The awesome thing about Turnigy High Voltage batteries is that you can charge them with any standard lipo charger for basic use and they will simply perform like a standard pack. However when using high voltage chargers such as our Turnigy Neutron chargers you will unlock the full potential of these High Voltage batteries.
If you are looking for a peformance upgrade then look no further than the Turnigy High Voltage series.
Features:
• Higher charge voltage than standard lipos
• High discharge rates
• Perfect for high performance models
• Higher capacity than comparable size packs
• Heavy duty silicone wire discharge leads 
Specs:
Minimum Capacity: 5000mAh
Configuration: 4S1P /15.2V/ 4Cell
Constant Discharge: 35C
Peak Discharge (10s): 70C 
Pack Weight: 670g
Pack Size: 165x52x44mm
Charge Plug: JST-XH
Discharge Plug: 5.5mm Bullet-Connector
---
Share this Product