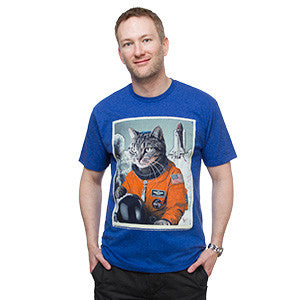 Space Cat Take Off Tee - Exclusive
---
As a young cat, Captain Whiskers studied the effects of gravity on drinking glasses. He graduated first in his class from the U.S. Navy Acatemy. He was assigned to Fighter Squadron 14 after completion of F-14 Tomcat training. [Ed. note: I just noticed he's Air Force. I'm writing a bio for a fictional space cat. Cut me some slack here, people.] 

Whiskers reported to the Johnson Space Center in March 1981 as an catstronaut candidate. He was first assigned as chief scientist on the microgravity lab mission, but the big M on his forehead qualified him to serve as mission commander on STS-Twelvity-Five. A veteran of four space flights, Whiskers logged over 51 days in space, most of them asleep. He then reported to NASA Headquarters and served as the Chief of the Exploration Branch of the Catstronaut Office. He left NASA in 1987 to pursue a red dot.

The NASA portrait of Capt. Whiskers on the front of this royal heather 60% cotton / 40% polyester shirt. This is a ThinkGeek exclusive. Machine wash cold. Tumble dry low or lay flat to dry. Imported.
---
Share this Product