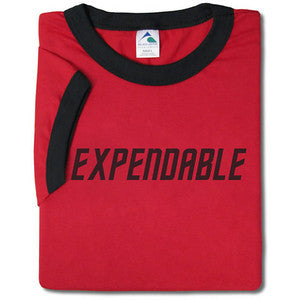 ---
After sitting through four years of dull interspecies protocol seminars and tactical maneuvers groundwork, you successfully graduated from Starfleet Academy. As a newly commissioned Federation security officer, your first assignment is on board a Constitution-class heavy cruiser. You straighten out the collar on your crisp red shirt as you walk down the corridor toward the transporter. You've been summoned to provide defensive support for a landing party consisting of the top officers on board. This is your chance to shine.
Shine like a phaser set to "frag."
Perhaps you should have gone into science.
In the Star Trek universe, the Red Shirt is the phase-cannon fodder obliterated on screen to alert the audience to the danger of the situation. It's Roddenberry proclaiming, "We could have just killed one of the characters you cared about!" The Red Shirt is a sci-fi idiom for the anonymous, the expendable, the smoking boots behind a boulder. We've printed that word, "Expendable," in a Trekish font on a red 50% polyester/50% cotton jersey ringer with black rib-knit collar and cuffs.
---
Share this Product