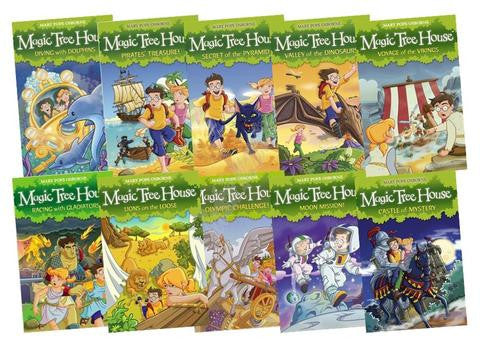 Red Fox Magic Tree House Collection - 10 Books
---
Jack and Annie cross Viking waves, battle with gladiators in ancient Rome, head back to medieval England and find themselves stuck on a desert island in this 10-book collection of Magic Tree House stories!
Ideal first readers, these hand-picked books in the Magic Tree House series are packed full of adventure and are sure to keep children entertained and intrigued throughout. Eight-year-old Jack and his little sister Annie are two ordinary children, but when they come across a mysterious tree house full of books, they realise things aren't quite what they seem... 
Now able to travel through time, the sibling duo go everywhere from the time of the dinosaurs to outer space. Expertly blending fantasy with facts, children will also be learning as they enjoy these wonderful stories. 
Titles in this collection
Voyage of the Vikings
Olympic Challenge
Diving with Dolphins
Racing with Gladiators
Lions on the Loose
Moon Mission
Valley of the Dinosaurs
Castle of Mystery
Secret of the Pyramids
Pirates' Treasure
Dimensions: 19.8cm x 12.9cm
6 years +
---
Share this Product