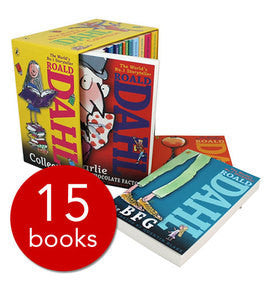 Penguin Group Roald Dahl Collection - 15 Books
---
With striking new artwork on the jackets and a keepsake slipcase featuring Quentin Blake's iconic illustrations, this 15-book collection brings together all the classic children's novels from the one and only Roald Dahl. 
From Mr. Hoppy and Mrs Silver to the Twits and from giant peaches to magic medicines, this is a collection bursting with unforgettable characters, hilarious situations and unforgettable storylines - as well as Dahl's wicked sense of humour!
An essential addition to any bookshelf, the likes of Charlie and the Chocolate Factory, Matilda, The Witches, The BFG and Fantastic Mr. Fox have shocked, excited and entertained generations of children and now's your chance to own them all - whatever your age!
Titles in this collection
Matilda
Going Solo
The Giraffe And The Pelly And Me
George's Marvellous Medicine
Fantastic Mr Fox
The Magic Finger
Esio Trot
Boy Tales Of Childhood
Charlie And The Great Glass Elevator
The BFG
The Witches
The Twits
Charlie And The Chocolate Factory
James And The Giant Peach
Danny The Champion Of The World
Recommended Age : 8+
---
Share this Product