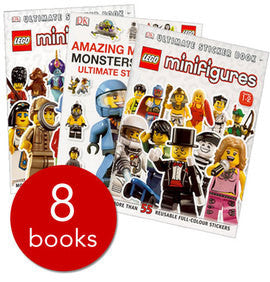 Penguin Group LEGO Minifigure Sticker Collection - 8 Books
---
From Monsters and Aliens to legends from Past Times and some of the residents you'll find In the City, this eight-book collection is sure to delight any fan of LEGO and the famous Minifigures can also be spotted in The LEGO Movie! 

With over 450 reusable full-colour stickers to be used across all the books, children will have hours of fun decorating their own scenes and among the characters included are magicians, artists, clowns, boxers, space travellers, mimes and rock stars. A brilliant collection at an outstanding price! 

This is just one of many great collections of LEGO books, hand-picked for you in the Book People's LEGO Shop. 


Titles in this collection
Amazing Minifigure In The City
Minifigures 1-2
Minifigures 3-4
Minifigures 5-6
Minifigures 7
Past Times
Monsters & Aliens
Amazing Minifigure
Recommended Age : 6+
Dimensions: 28.0cm x 22.0cm
---
Share this Product