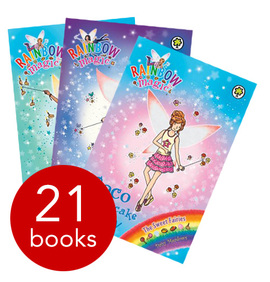 Orchard Rainbow Magic Series 18-20 Collection - 21 Books
---
Prepare to meet the Fashion Fairies, the Sweet Fairies and the Baby Animal Rescue Fairies in our latest 21-book Rainbow Magic Collection. Perfect for those children who want to start reading independently and even reluctant readers, the stories are sure to delight any fairy fan!

From Miranda the Beauty Fairy to Lottie the Lollipop Fairy and Mae the Panda Fairy, the books find the fairies trying to foil the naughty Jack Frost's dastardly plans. With appealing text and fun stories, Rainbow Magic will quickly become a favourite with readers aged 5 and over.

The Book People's Rainbow Magic Collections have always proven very popular with our customers and this collection might just be the best yet! 

This collection includes books 120 - 140 in the Rainbow Magic series - The Fashion Fairies, The Sweet Fairies and The Baby Animal Rescue Fairies.
Titles in this collection
Coco the Cupcake Fairy
Miranda the Beauty Fairy
Claudia the Accessories Fairy
Tyra the Dress Designer Fairy
Alexa the Fashion Reporter Fairy
Matilda the Hair Stylist Fairy
Brooke the Photographer Fairy
Lottie the Lollipop Fairy
Esme the Ice Cream Fairy
Clara the Chocolate Fairy
Madeleine the Cookie Fairy
Nina the Birthday Cake Fairy
Layla the Candyfloss Fairy
Mae the Panda Fairy
Kitty the Tiger Fairy
Mara the Meerkat Fairy
Savannah the Zebra Fairy
Kimberley the Koala Fairy
Rosie the Honey Bear Fairy
Anna the Arctic Fox Fairy
Lola the Fashion Show Fairy
---
Share this Product