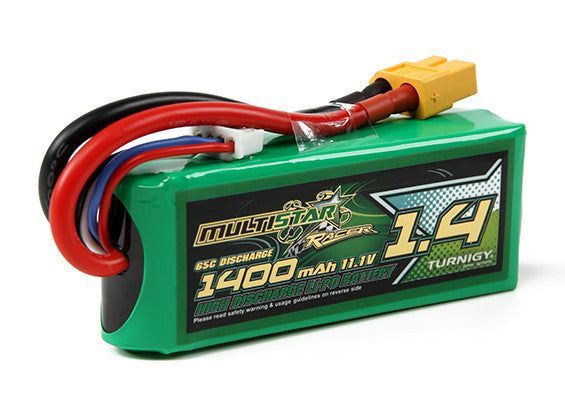 MultiStar Racer Series 1400mAh 3S 65C Lipo Pack For FPV Minis (Gold Spec)
---
Based in the huge success of the original MultiStar 1400mah 3s and 4s packs we are proud to bring you the next level in Multistar race packs, the "Gold Spec". This series of packs deliver higher C rates and give your rig more punch out making them a winning pack for FPV racing die-hards!
These little FPV machines crave for a bit better run time and high C demands that the high kV motors can pull.  1500mAh is too big and heavy and 1300mah leaves some flights a little short winded. The Multistar 1400 Race Spec 3S battery is the winning ticket.
With 1400mah of capacity and 65-130C discharge ability, your mini racer will feel like it's on race fuel! The best feature is the size and weight, all this power in a frame friendly form factor, even smaller than some 1300mAh packs!
The Race Spec also comes with the new XT60 connector capable of delivering 60A constant and bursting past when needed. 
The New Race Spec 1400mAh high C Battery by Multistar, get your goggles on and start racing!
Specs:
Capacity: 1400mAh
Configuration: 3S1P / 11.1V / 3Cell
Constant Discharge: 65C
Peak Discharge (10sec): 130C
Pack Weight: 139 g
Pack Size: 90x34x23mm
Charge Plug: JST-XH
Discharge Plug: XT60
---
Share this Product