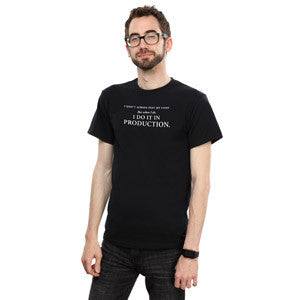 ---
You send Tweets without checking character count.
You think the sandbox environment is for toddlers.
Your resume has never been proofread.
You believe merge conflicts are for highways.
You are... the most interesting coder in the world.
(Now, the people whose stuff you broke cause you couldn't be bothered to test it might have a *different* adjective for you.)
"I don't always test my code but when I do, I do it in production" in white on a black, 100% cotton t-shirt. The Tall version is 2 1/2 inches longer than our standard t-shirt.
Note that you may see "I don't often test my code..." in some of the action shots. That's a first edition shirt. We've fixed that.
---
Share this Product