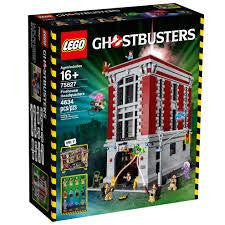 Lego Ghostbusters 75827 Firehouse Headquarters
---
Get ready to bust some ghosts at the Firehouse Headquarters!
There's definitely something strange in this neighborhood! Slide down the fire pole into action, power up the proton packs and start zapping! The Ghostbusters™ are chasing Slimer and other mischievous ghosts. Round them up in the containment unit! Take samples of slime to the lab and analyze photos in the darkroom. Or grab a pizza and relax with a game of pool in this detailed play set packed with features true to the movie classics!
Includes 9 minifigures: Peter Venkman, Raymond Stantz, Egon Spengler, Winston Zeddemore, Janine Melnitz, Dana Barrett, Louis Tully, Zombie Driver and Library Ghost.
Also comes with Slimer, Pink Ghost and Blue Ghost.
Slide the Ghostbusters™ heroes down the fire pole into action.
Chase the ghosts and secure them in the containment unit.
Turn the librarian old lady into a scary ghost with the double-sided face and extra wig!
Run tests on Louis in the lab to see if he's possessed!
Suspend ghosts around the building's exterior with attachable transparent arms.
Dodge the slime oozing up through cracks in the pavement.
Accessory elements include an alarm bell, fire extinguisher, computer, phone, toolbox, tools, jars of slimes, magnifying glass, camera, camera rolls, arcade game, toaster with slime, fridge with frozen pizza, milk and cheese, and much more!
Features opening walls for easy play access.
Features over 4,600 pieces.
Ghostbusters™ minifigures comewith decorated arms.
Measures over 14" (36cm) high, 9" (25cm) wide and 14" (38cm) deep.
With walls opened out, measures over 14" (36cm) high, 18" (46 cm) wide and 14" (38cm) deep.
Firehouse Headquarters doors can open to fit the 21108 LEGO® Ideas Ghostbusters Ecto-1 inside!
Recommended Age 16+
---
Share this Product