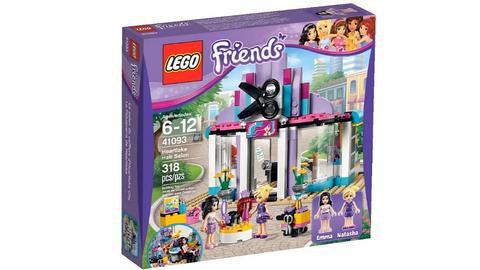 LEGO Friends 41093 Heartlake Hair Salon
---
Give Emma a hair makeover at the Lego friends Heart lake Hair Salon 41093, the new place to be in Heart lake City! Meet Natasha the stylist with her cool coloured hair. Sit Emma down at the washing station to wash her hair using the latest hair products. How would she like her hair today? Then give her a magazine and a coffee while you get creative with her hair, using all the tools in Natasha's trolley. Choose the perfect accessory to complement Emma's new hairstyle before showing her the new look in the mirrors. Get ready to be busy – Emma will be sure to tell her friends all about the hot new Hair Salon!
Accessories include scissors, bottles of shampoo and hair products, brush & comb, hairdryer, handheld mirror, 2 wigs, hair accessories, cup, 3 magazines, cash register, check, coin, a sign and 2 flower pots
Choose from 2 wigs as new hairstyles and plenty of cool hair accessories 
Hair Salon Assembled Dimensions: 13L x 18W x 14H cm
Rolling Trolley Assembled Dimensions: 2L x 2W x 2H cm
Suitable for ages 6-12 years
Contents: Emma and Natasha mini-doll figures, a 1-story building with opening door, revolving and reclining chair, washing station with basin, styling station with mirror and drawer, rolling trolley, coffee machine, counter and an accessories display 
Batteries Not Required.
---
Share this Product