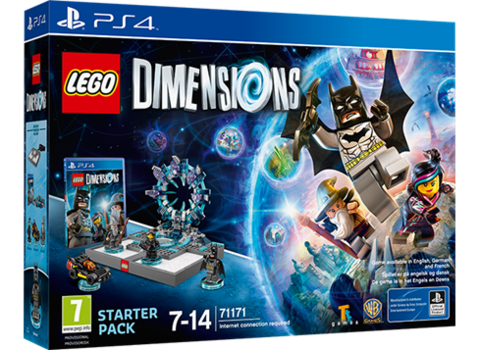 LEGO 71171 LEGO Dimensions Starter Pack PS4
---
When a mysterious and powerful vortex suddenly appears in various LEGO worlds, different characters from DC Comics, The Lord of the Rings and THE LEGO MOVIE are swept away. In a bid to save their friends, Batman, Gandalf and Wyldstyle bravely jump into the vortex, but soon find themselves fighting to save all of LEGO humanity. Let creativity be your guide to a building and gaming adventure—journey through unexpected worlds and team up with unlikely allies on a quest to defeat the evil LordVortech. Play with a range of characters from different worlds together in one LEGO video game, and help them use each other's vehicles and gadgets in a way never before possible. Attach the minifigures to their LEGO Toy Tags and place them on the LEGO Toy Pad to bring them to life in the LEGO DIMENSIONS game. Activate each character's special in-game abilities to solve puzzles and battle enemies, add the Batmobile for a boost of speed, and then rebuild it for upgraded abilities! When you're ready for more, expand your collection with Level, Team and Fun Packs from the LEGO DIMENSIONS product line.
Includes buildable Batman, Wyldstyle and Gandalf minifigures and 3-in-1 Batmobile, each with a detachable LEGO Toy Tag.
Rebuild the 3-in-1 Batmobile into The Batblaster and Sonic Batray for extra in-game abilities.
Also includes Batman's Batarang, Wyldstyle´s relic scanner and Gandalf's staff.
Activate Batman's special Grapple, Boomerang and Stealth abilities; Wyldstyle's Relic Detector, Acrobat and Master Build abilities; and Gandalf's Magic, Magical Shield and Illumination abilities to crack puzzles and overpower enemies.
Place up to 7 LEGO DIMENSIONS toys on the LEGO Toy Pad simultaneously and set out on exciting in-game adventures.
Collect your favorite LEGO DIMENSIONS characters and use them in-game together for a crazy mash-up multiverse.
PLAYSTATION 4 game system with a minimum of 20GB available hard disk space and Internet connection required.
Collect LEGO DIMENSIONS Team, Level and Fun Packs to unlock additional content.
LEGO DIMENSIONS characters and vehicles are required to interact with the LEGO DIMENSIONS video game.
LEGO Toy Pad with Gateway measures over 6" (16cm) high, 7" (19cm) wide and 4" (11cm) deep.
Batmobile measures over 1" (4cm) high, 2" (6cm) long and 1" (3cm) wide (alternative 3-in-1 vehicle builds vary in size).
---
Share this Product