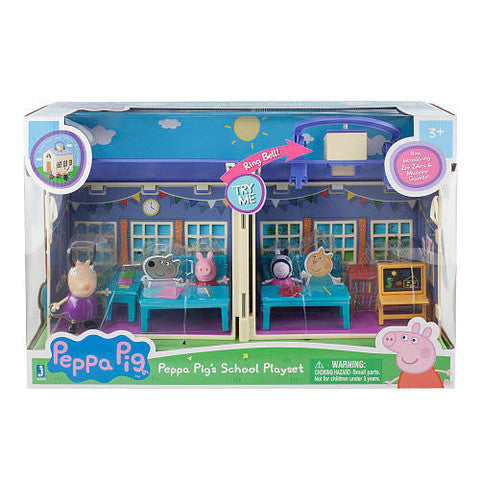 Jazwares Peppa Pig School Playset
---
Your child can reenact a day at school with the Peppa Pig's School Play Set. Peppa Pig is ready for class in her school outfit, and Zoe Zebra and Madame Gazelle are ready to join her in the classroom. Two student desks, a teacher's desk and a double-sided chalkboard set Madame up to teach lessons to her students, as the school bell rings with the press of a button. Your child can store the play set accessories by folding the unit and carrying it by the convenient handle.
Product Highlights
Peppa Pig comes wearing her school outfit

Zoe the Zebra and Madame Gazelle figures are included

Two student desks provide seats for Peppa and Zoe

Double-sided chalkboard enables pretend school lessons

Play set folds with a handle for storage and portability

Button at the top activates the school bell
What's Included
Peppa Pig's School Play Set

Peppa Pig figure in school outfit

Zoe Zebra figure

Madame Gazelle figure

Two student desks

Teacher's desk

Double-sided chalkboard
Class is in session
Peppa Pig is dressed and ready for her first day of school. Her friend, Zoe Zebra, joins her at their desks for a lesson from their teacher, Madame Gazelle, as she instructs on the double-sided chalkboard.
Lessons on the go
Your little one can keep Peppa and her friends safely within the play set by folding it shut, and it can even be moved around your home or to a friend's house by using the carrying handle.
Ding-dong
Your child can get the toy figures ready for class by pressing the button on top of the school play set to activate the ringing school bell.
For Age over 3 years. 
1.1 pounds
43.5 x 28.1 x 11.2
---
Share this Product