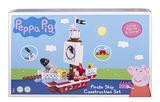 JazWares Peppa Pig - Peppa and George's Pirate Ship Construction Set
---
Sail the seven seas with the Peppa Pig Pirate Ship Construction Set. Get creative with the 82 pieces to build Peppa and George's very own pirate ship. Lug the treasure chest aboard and use your working cannon to fend off any greedy pirates. Together, you, Peppa and George can take to the water with endless adventures.
Product Highlights
Get creative and build the pirate ship using the 82 included pieces
Fire the cannon to keep other pirates at bay
Peppa and George figures are included with sailing attire
Giant treasure chest is included for treasure hunts and other fun ways to play
What's Included
Peppa Pig Pirate Ship Construction Set
Peppa figure

George figure

Treasure chest

Working cannon

Cannonball projectile
Nautical adventures
Build the ship and then launch the cannonball into the air to keep pirates away as you sail the seas.
X marks the spot
Help Peppa and her brother George find the riches and then haul the giant treasure chest aboard.
Product Description
Peppa loves playing make believe with her friends. Join her as she embarks on a journey to the seas with her brother George, and fend off any pirate who threatens your boat with Peppa Pig's Pirate Ship Construction Set. This 82 piece set arms the included Peppa and George figures with a powerful ship and fully firing cannon. With friends like you, pirates are no match for Peppa and George! 
Product Dimensions (in inches):21.8 x 13.0 x 3.6
Age: 2 - 5 years
---
Share this Product