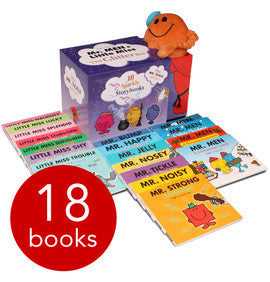 Egmont The Mr. Men & Little Miss Glitter Box - 18 Books
---
The Mr. Men and Little Miss characters are extremely popular and have been delighting children for generations with their incredible adventures.

The likes of Mr. Happy, Mr. Nosey, Little Miss Naughty and Little Miss Sunshine all feature in this amazing 18-book collection which finds them encountering all manner of wizards, dragons, ogres and unicorns.

All the books have glitter on the cover to add some extra sparkle to the stories, and the plush Mr. Tickle cuddly toy is sure to delight any fan. Inspired by his father Roger Hargreaves' iconic creations, the stories and illustrations in this collection are brilliantly written and illustrated by Adam Hargreaves. 


Titles in this collection
Little Miss Splendid and The Princess
Little Miss Naughty and The Good Fairy
Mr. Nosey and The Beanstalk
Little Miss Sunshine and The Wicked Witch
Little Miss Stubborn and The Unicorn
Little Miss Lucky and The Naughty Pixies
Little Miss Shy and The Fairy Godmother
Little Miss Trouble and The Mermaid
Mr. Men: A Christmas Carol
Mr. Men: A White Christmas
Mr. Men: A Christmas Pantomime
Mr. Men: The Night Before Christmas
Mr. Happy and The Wizard
Mr. Bump and The Knight
Mr. Jelly and The Pirates
Mr. Tickle and The Dragon
Mr. Noisy and The Giant
Mr. Strong and The Ogre
Recommended Age : 3+
Dimensions: 16.2cm x 19.2cm
---
Share this Product