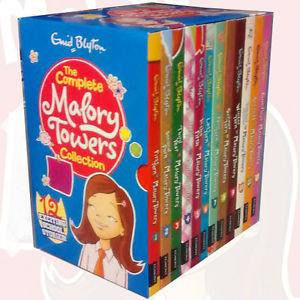 Egmont Malory Towers Collection - 12 Books
---
Enid Blyton is one of the most successful and best-loved children's authors of all time and we're very excited to bring Book People customers this complete collection of her wonderful Malory Towers books, which have been given cool and contemporary new cover art to introduce them to a whole new generation of young readers.
Telling the story of Darrell Rivers, her friends and the trials and tribulations of their time at the famous boarding school, the books are full of drama, tension and adventure, as well as plenty of cheeky mischief that will delight young readers.
A great series for keen new readers to get stuck into, we can guarantee they won't be able to put the books down.
Titles in this collection (12)
New Term at Malory Towers
Fun and Games at Malory Towers
Winter Term at Malory Towers
Summer Term at Malory Towers
Last Term at Malory Towers
In the Fifth at Malory Towers
First Term at Malory Towers
Second Term at Malory Towers
Upper Fourth at Malory Towers
Third Year at Malory Towers
Goodbye Malory Towers
Secrets at Malory Towers

Recommended Age : 9+
---
Share this Product