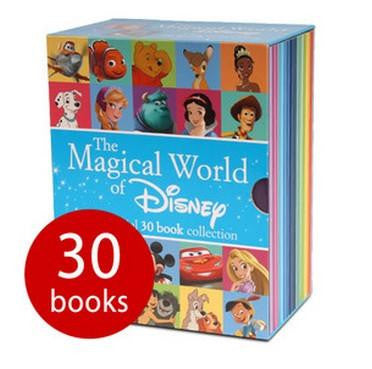 Parragon The Magical World of Disney Collection - 30 Book Slipcase
---
From Mickey and Minnie Mouse through to fairy tale characters like Peter Pan and the Little Mermaid, as well as the modern Disney-Pixar classics like Brave, Toy Story and Cars, Walt Disney is one of the most reliable names when it comes to entertaining children of all ages.
This 30-book collection lets readers delve further into the Magical World of Disney. Coming in a handy slipcase, the books here have simple storylines that follow the famous characters as they head off on a series of exciting adventures. With so many books to choose from, these offer plenty of choice for reading at bedtime or you could split the collection up and hand them out as party bag treats.
Whether a child you know loves Snow White, Beauty and the Beast, Dumbo or one of the many other classics featured here, this is an unbeatable collection for any child aged 3+ who loves Disney!
Titles in this collection
Mickey Mouse Clubhouse
Beauty and the Beast
Peter Pan
Planes
Dumbo
The Jungle Book
Toy Story 3
Alice in Wonderland
Bambi
The Little Mermaid
Brave
Winnie the Pooh
Cars 2
The Lion King
Toy Story 2
Monsters University
Finding Nemo
Monsters, Inc.
Toy Story
Cinderella
Pinocchio
101 Dalmatians
Minnie
Sleeping Beauty
The Princess and the Frog
Frozen
Lady and the Tramp
Tangled
Aladdin
Snow White and the Seven Dwarfs
---
Share this Product