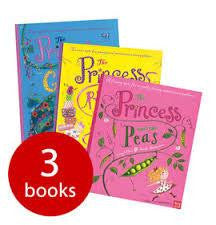 Nosy Crow The Princess and the Peas Collection - 3 Books
---
Whether your child loves nothing more than a bedtime story, is thoroughly spoilt or incredibly fussy when it comes to eating their greens, Caryl Hart and Sarah Warburton's The Princess stories are sure to be royally received...
A celebration of friendship, The Princess and the Giant finds Princess Sophie unable to get to sleep as there is a grumpy old giant stomping about all night. While reading her favourite book of fairy tales, she realises just what this giant needs...
In The Princess and the Presents, Princess Ruby is the most pampered princess anyone's ever seen but despite all her presents, she soon realises there is more to life.
Lily-Rose May may be perfect in every way but when she refuses to eat her peas in The Princess and the Peas, she's diagnosed with Princess-itis and realises a pea-free life of royal luxury isn't all it's cracked up to be...
Familiar situations, funny stories, beautiful artwork and glittery covers make these story books fit for any prince or princess!
Titles in this collection (3)
The Princess and the Peas
The Princess and the Presents
The Princess and the Giant

Recommend Age : 3+
---
Share this Product