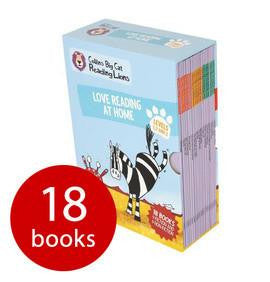 Collins Big Cat Reading Lions Level 1-3 Collection - 18 Books
---
Developed by the experts at Collins, this bumper collection of Big Cat Reading Lions early readers books is ideal for introducing children aged 5 years and over to the wonderful world of reading and helping to support their reading development at home. 
Covering reading levels 1-3, each one of the 18 books has been created with leading children's authors and illustrators - and carefully levelled by educational experts - to ensure that they are not only thoroughly entertaining, but perfectly pitched to aid progression and encourage them along their reading journey. 
From first reading books through to books for reading with adult support, this collection of Big Cat Reading Lions books even includes both fiction and non-fiction books to make sure there is something to grab the interest of every child. 

Titles in this collection (18)
Twinkle, Twinkle, Firefly - John Agard, Grace Nichols and Satoshi Kitamura
We Are Not Fond of Rat! - Emma Chichester Clark
The Singing Beetle - Linda Strachan and Oliver Hurst
The Sun and the Moon - Paul Shipton
The Rainforest at Night - Nic Bishop
Sam and the Nut - Sheryl Webster and Giuditta Gaviraghi
Pond Food - John Townsend and Pamela Anzalotti
Pet Cat, Big Cat - Alison Hawes
Mountain Mona - Vivian French and Chris Fisher
How to be a Knight in 10 easy stages - Scoular Anderson
Ant and Snail - Paul Shipton and Jon Stuart
Chewy Hughie - Jane Clarke and Sarah McConnell
Gorillas - Teresa Heapy
A Day Out - Petr Horacek
Unusual Traditions - John McIlwain
Got It! - Charlotte Guillain and Ley Honor Roberts
What's that Building? - Richard Platt
Zog and Zebra - Mal Peet, Elspeth Graham and Sarah Horne
Recommended Age : 5+
Dimensions: 21.8cm x 15.1cm
---
Share this Product