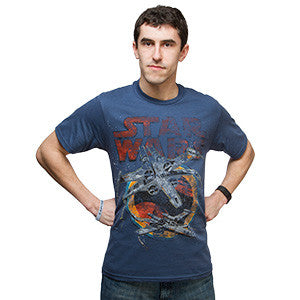 ---
We Buy Junk and Used Starfighters! All Makes & Models! We Offer Free Pickup and Fast Service!
When only the nose of your Incom T-65 X-wing starfighter is sticking out of a swamp, don't salvage the vehicle! Drop it off at your local Jawa Reclamation Depot, and we'll fix it good as new. Bring in your "totaled" fighter, and we'll provide a free estimate and diagnosis on repair. If we can't fix it, we can set you up with a lovely, late-model droid whose happy chirps and whirs will take your mind off of it.
Two (fully-functioning) X-wings grace the front of this light navy retro shirt in front of the Star Wars logo. Note: the print is distressed and the fabric is extra soft for a vintage feel.
---
Share this Product