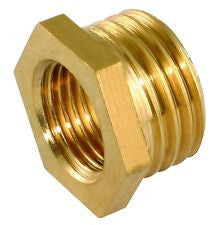 BRASS BSPP REDUCING HEXAGON BUSH MALE TO FEMALE ADAPTOR VARIOUS SIZES
---
Assorted sizes BSPP Brass Bush New FREE POSTAGE ORDER BEFORE 2.30PM DESPATCH SAME DAY
If you have any questions regarding size issue please email and we will get back to you asap.
The threaded part(s) of plumbing fittings are made to a British Standard Pipe Thread size (BSP).  BSP sizes don't match up with what you would measure using a ruler, which can obviously cause some confusion. For example a 3/4
″
BSP thread actually measures more like 1" with a ruler.
A list of 16 thread sizes are defined by the standards, ranging from 1⁄16″ to 6″. The size was originally based on the inner diameter measured in inches of a steel tube for which the thread was intended. This often causes confusion, as people think the size refers to the outside diameter of the male thread.
Parallel (straight) threads, British Standard Pipe Parallel thread (BSPP)
---
Share this Product